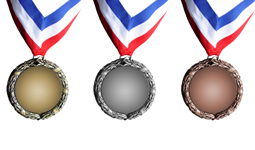 On July 27th more than 15,000 athletes and millions of people will gather in London to be part of an unique sporting cultural event, the Olympics. For 60 days, the length of the 2012 Olympic and Paralympic Games, the Olympic Park in London will be the center of the world.
To celebrate the 2012 Summer Games, Flury-Hinderks Insurance Agency has complied a list of fun facts:
Fun Facts
26 Olympic sports and 19 Paralympic sports will be played.
205 nations are expected to take part in 300 events at the 2012 Games.
The marathon, triathlon and road cycling events are among Olympic events that will be free to spectators.
The Opening ceremony of the 2012 Summer Olympics will be directed by award-winning director Danny Boyle of 'Slumdog Millionaire'.
Around 70,000 unpaid volunteers (known as Games Makers) will work with the organizer, performing various tasks prior to and during the Games. More than 240,000 Game Maker applications were received.
The IOC's social media guidelines prohibit athletes from commenting on other participants, promoting their own sponsers or themselves, or using the word "Olympic" in URLs or to refer to third parties. They are also not allowed to upload any videos taken within the Olympic Village.
About 9% of the energy for the Olympic Park and Olympic Village is expected to come from renewable technologies and all food packaging at the Olympics will be made from compostable, reusable or recycled materials.
The Games are projected to generate 12,000 new jobs in the Olympic Park.
31 competition venues will be utilized.
20,000 press/media will be in attendance.
6.2 miles of new roads will be built.
There will be 500,000 spectators per day.
There will be 9.6 million tickets for sale - 8 million Olympics and 1.6 million for the Paralympics.
After the Games four arenas will be 'deconstructed' and relocated to other parts of the UK along with the swimming pools that are used for water polo and the 50m training pools.
Charities will be given the sports equipment used in the Games.
Support Team USA and all your favorite events! Check out a list of scheduled events and results.