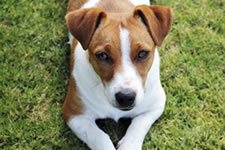 We've all be trained to buckle our seat belts, and in many states it's the law. But how often do we see a dog running wild in moving car, overcome with the excitement of going for a drive?
You see dogs in drivers' laps, dogs with their heads (sometimes half their body) out the back (or front!) window, dogs leaping between the front and back seats out of pure, unbridled excitement... does this sound like your dog?
While it can be fun to let your pet fully enjoy their joyous car ride - what must be the most exciting event of the day - it's important to think about their safety too.
Imagine if you had to swerve or slam on your breaks to avoid an accident. An unrestrained pet can be severely injured - especially if their in mid-jump from the front seat to back, or have any part of their head or body outside of the window.
We hear a lot about "distracted driving" and associate it with cell phone usage. But a dog in your lap is could be much more distracting. According to an August 2010 study by AAA and Kurgo, 1 in 5 dog owners let their dog ride in their lap while driving!
You don't have to leave your beloved dog at home though. Simply follow the same safety standards you require of yourself and children - seatbelts! Yes, they make them for dogs too! A seatbelt or harness designed specifically for dogs allows you to safety take your pet for a ride without risking injury to yourself, others or your dog.
Read the full article about the various risks to be aware of when transporting your pet - even if it's for a joy ride on a beautiful evening like tonight!