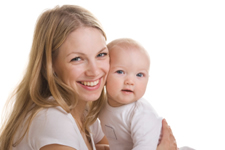 They've kissed countless boo boos, can see kids' antics from the back of their head and have racked up more miles than a New York cabbie. In honor of moms everywhere (including right here in Kansas), we've compiled some fun facts about Mother's Day! Consider it our little "gift" to mom!
Fun facts about Mother's Day:
Founded by Anna Jarvis, the first Mother's Day was celebrated on May 10, 1908. It wasn't until 1914 that President Wilson signed a proclamation, making Mother's Day a national holiday in the U.S.
82.8 million – Estimated number of mothers of all ages in the United States.
Americans will buy 140 million mothers day cards. Even though there are only 83 million mothers.
Mother's Day ranks as the third most popular holiday, after Easter and Christmas.
Mother's Day is celebrated in many countries around the world. Australia, Mexico, Denmark, Finland, Italy, Turkey, Belgium, Russia, China, Thailand, all have special celebrations to honor Mothers, but not in the same way or on the same day as the United States.
68% of people plan to call Mom on Mother's Day, totaling 122.5 million phone calls, making Mother's Day the busiest phone day of the year.
48% of Facebookers say they are friends with their moms.
By a child's 2nd birthday, mom has changed 7,300 diapers.
A Preschooler requires mom's attention once every 4 minutes or 210 times / day!
What do moms really want this mother's day? The Mother Company polled a group of moms to find out! 54% said "Well-behaved kids" while another 29% said "time to themselves".
Happy Mother's Day from all of us here at Flury-Hinderks!