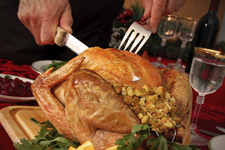 Happy Thanksgiving from Flury-Hinderks Insurance Agency! We are always grateful for our fantastic customers year-round, but want to take a moment to express how thankful we are for you this time of year!
Thanksgiving is a time to enjoy with family and friends, and we hope your celebration is a happy and safe one this year!
There are a surprising number of things that can happen over Thanksgiving that may warrant a call to us as a result – fires from a failed attempt at deep frying a turkey, sliding your car on the ice, a fender-bender during your annual Black Friday shopping spree, etc. While we're always happy to hear from our customers, we hope that it's not because of one of these! So please be safe this weekend!
That said, here are some fun facts to share with your familiy this weekend!
Benjamin Franklin campaigned heavily for the Turkey to be the national bird of the United States.
280 million turkeys are sold and eaten for Thanksgiving each year.
91% of Americans will eat turkey on Thanksgiving but only 50% of those turkeys have stuffing inside. 40 million green bean casseroles are served along side turkey.
Californians eat the most turkey of any state in the U.S.
The largest turkey ever recorded was a whopping 86 pounds!
Grown turkeys have over 3,500 feathers.
Ever wonder what a "fryer" is? It's a 16 week old turkey. At 5-7 months old, it's called a "young roaster".
There are 3 cities with "Turkey" in their name - Turkey, TX, Turkey Creek, LA and Turkey, NC, as well as nine townships in the U.S. named Turkey – three of them in Kansas!