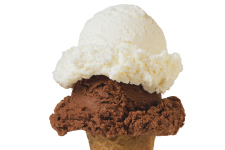 To some, eating 20 quarts of ice cream a year might sound like a lot. But, to most Americans, that's the norm. Perhaps that's why back in 1984, President Ronald Reagan designated July as National Ice Cream Month and the third Sunday of the month as National Ice Cream Day.
Ice Cream Fun Facts
Vanilla is the #1 selling flavor.
Chocolate syrup is the favorite topping to put on ice cream.
The major ingredient in ice cream is air.
It takes approximately 50 licks to finish off a scoop of ice cream.
It takes 12 lbs. of milk to make a gallon of ice cream.
The ice cream cone was invented in 1896 with a patent being issued to 1903 to Italo Marchiony. The widespread use of ice cream cones occurred after its introduction at the St. Louis World's Fair in 1904.
Some Unique Flavors to Make Yourself
Nutella Peanut Butter Chip Ice Cream Recipe
2 cups heavy cream
1 can (14 oz.) sweetened consolidated milk
3 tablespoons butter, melted
1/2 cup Nutella
1 cup peanut butter chips
Whip heavy cream to stiff peaks in a large bowel. Whisk sweetened condensed milk, butter and Nutella in large bowel. Stir in peanut butter chips. Fold in whipped cream.
Pour into a 2-quart container and cover. Freeze 6 hours or until firm.
Source
www.kevinandamanda.com
Vanilla Avocado Banana Ice Cream
1 ripe avocado
1 medium banana (previously frozen in chunks is optimal)
1tsp vanilla extract
1/2 c milk
1/2 c sugar
1 cup ice cubes

Blend everything in a blender until smooth.
Store in container in the freezer until frozen solid. Slightly thaw before serving.
Source
www.loveveggiesandyoga.com
Easy, Eggless Strawberry Ice Cream
2 c whole milk
2 c heavy cream
1 c white sugar
1/4 tsp salt
2 tsp vanilla extract
2 c mashed fresh strawberries
2 drops red food coloring (optional)

In a large bowl, combine the milk, cream, sugar, salt, vanilla, strawberries, and food coloring. Pour the mixture into the freezer bowel of an ice cream maker, and freeze according to manufacturer's directions.
Source
www.allrecipes.com
Want to Know More?
Check out the International Dairy Foods Association website for more details about National Ice Cream Month as well as lots of other information about ice cream products and dairy farming.