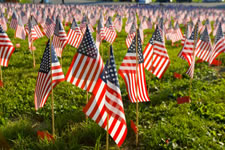 Flury-Hinderks Insurance Agency wants to wish everyone a happy (and safe!) Memorial Day weekend!
We hope you all have a fun 3-day weekend and enjoy the outdoors and various activities going on throughout the area.
Just don't forget to drive safely and wear sunscreen!
Memorial Day Facts
Memorial Day has been around since the Civil War, in which an estimated 620,000 soldiers on both sides lost their lives during the war.
Waterloo, NY is considered the birthplace of Memorial Day, as they received the congressional recognition as being the first to hold an annual community service on May 5, 1866.
Memorial Day was originally known as Decoration Day. It wasn't until 1967 that it was officially changed to Memorial Day.
It is customary to fly the flag at half staff on Memorial day until noon, and then raise it fully until sunset.
The National Moment of Remembrance Act was signed into law in December 2000. At 3PM local time Americans are encouraged to pause for a minute of silence to remember those who have died in service to the nation.
On Memorial Day, 1988, the first Rolling Thunder motorcycle rally was held by 2,500 motorcyclists in Washington D.C. to draw attention to the Vietnam War soldiers still missing in action or prisoners of war. By 2002, the numbers attending the rally had grown to 300,000. The rally this year is on Sunday May 24, and is expected to have the highest participation yet.