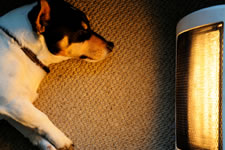 It's going to be especially cold this week, and many of us will be turning to a space heater to provide extra heat in living areas, bathrooms and bedrooms. Whether you've used a space heater since the weather first turned or have just purchased one for the coming weeks of icy cold weather, remember that these devices can also be a deadly and damaging house hazard and, like candles, should be used with care.
Here are some dos and don'ts to remember when using your space heater
Use a space heater that has been tested to the latest safety standards and has been certified by a nationally recognized testing laboratory. These heaters have the most up-to-date safety features. Older space heaters may not meet newer safety standards. Always follow the manufacturer's directions for proper use.
Place the heater on a level, hard, nonflammable surface, such as a ceramic tile floor.
Keep the heater at least three feet away from bedding, drapes, furniture, and other flammable materials.
Keep children and pets away from space heaters.
Turn the heater off if you leave the area. See #4 - cats and dogs alike will want to be near the extra warmth, so be sure you turn it off when you leave it unattended.
Never leave a space heater on when you go to sleep. Need a little extra warmth when first climb into bed, but can't stand to have to get up to turn it off before you go to sleep? Consider purchasing a reliable timer so that you don't have to worry about falling asleep with your heater running all night.
Don't place a space heater close to any sleeping person.
Never use gasoline in a kerosene space heater, as even small amounts of gasoline mixed with kerosene can increase the risk of fire.
Don't use portable propane space heaters indoors or in any confined space unless they are specifically designed for indoor use.
Place smoke alarms on every level of your home, outside of sleeping areas and inside each bedroom. Guard against carbon monoxide (CO) poisonings as well by installing carbon monoxide alarms in your home. Make sure that your batteries in all alarms are fresh and working.