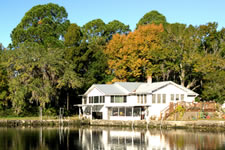 Kansas spring rain can send your sump pump into overdrive. All that rain has to go somewhere and if your sump pump isn't working correctly, that rain could end up in your basement. Be sure your sump pump is in good working order and ready to handle whatever rain comes your way.
If you have a finished basement or use your basement as storage then its important to keep your basement from flooding. Follow these tips to keep your sump pump in working order and your basement dry:
Make sure that the sump basin (hole in the floor) is covered. This will help keep things out and keep odors in.
Regularly check the basin and inlet of the pump for debris and build up.
Make sure the float switch is operating correctly.
If you don't feel comfortable checking your sump pump, you can always call your local Overland Park plumber to assist.
With spring comes Overland Park thunderstorms and with thunderstorms comes the risk of losing power for periods of time. Be sure you have a backup sump pump that can run without electricity. Here are some options:
Battery back-up sump pump. This type of system is the most common and relies on a separate battery to power a secondary pump in the case of power outage or the primary pump fails.
Water powered back-up pump. If you are looking for a back-up sump pump that you don't have to maintain then consider investing in a water-powered pump. These pumps have no charger to plug in or monitor and are extremely reliable. The pump is powered by your cold water supply. The same cold water you drink and bathe in. Can you even remember a time when you didn't have cold running water? That gives you an idea of how reliable a power source cold water is.
Are You Covered If Your Pump Fails?
Standard home insurance and renters insurance policies do not cover flood damage. However, some private insurers along with the National Flood Insurance Program (NFIP) (888-379-9531) provide separate flood policies.
Have questions about what your current policy covers? Contact us.