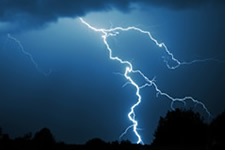 There's nothing quite like the smell of spring rain or the sound of a gentle thunderstorm. As the saying goes, April showers bring May flowers! But what happens when that gentle rain becomes a severe thunderstorm? Are you prepared for the possibility of lightning, hail, tornadoes or straight-line winds?
When Lightning Strikes
Lightning occurs with all thunderstorms and is responsible for approximately 400 injuries and more than $1 billion in insured losses each year.
There is no safe place outside when thunderstorms are in the area. If you hear thunder you are likely within striking distance of the storm. Just remember - when thunder roars, go indoors!
The best way to protect your house is by installing a lightning protection system. These systems are designed to protect a structure from lightning strikes by intercepting the strikes and safely passing their energy to the ground.
---
Hail Damage
When it comes to hailstorms, a homeowner's biggest concern is the material damage to the roof. The second biggest concern is how their car weathered the storm. Here are a few tips that will help minimize your risk of hail damage:
No roof is hail-proof, but there is such a thing as hail-resistant shingles. Look for roofing materials with an Underwriters Laboratory 2218 Class 3 or 4 rating. These materials have shown the most resistance when hit with 2 inch steel balls.
Check your roof for loose or missing shingles at least once a year.
Protect your automobile by parking in a garage or carport. This could save you hundreds or even thousands of dollars in damages to your car.
---
Dangerous Winds
According to the Insurance Information Institute, thunderstorms (including tornadoes events) caused $13.2 billion in economic losses and $9.5 billion in insured losses in 2010 alone.
Make sure your exterior doors and windows are in good shape. Installing storm shutters over all exposed windows and other glass surfaces is on the easiest and most effective ways to protect your home.
Protect your home or building by identifying and removing trees and branches that could fall on the building walls or roof, or on power lines.
Look for and repair loose or damaged components like siding, soffit, roofing, brickwork, and brick chimneys.
Secure or bring in outdoor furniture and other personal property kept outdoors
For more information about thunderstorms and how to you can protect yourself and your property visit NOAA National Weather Service or call us.